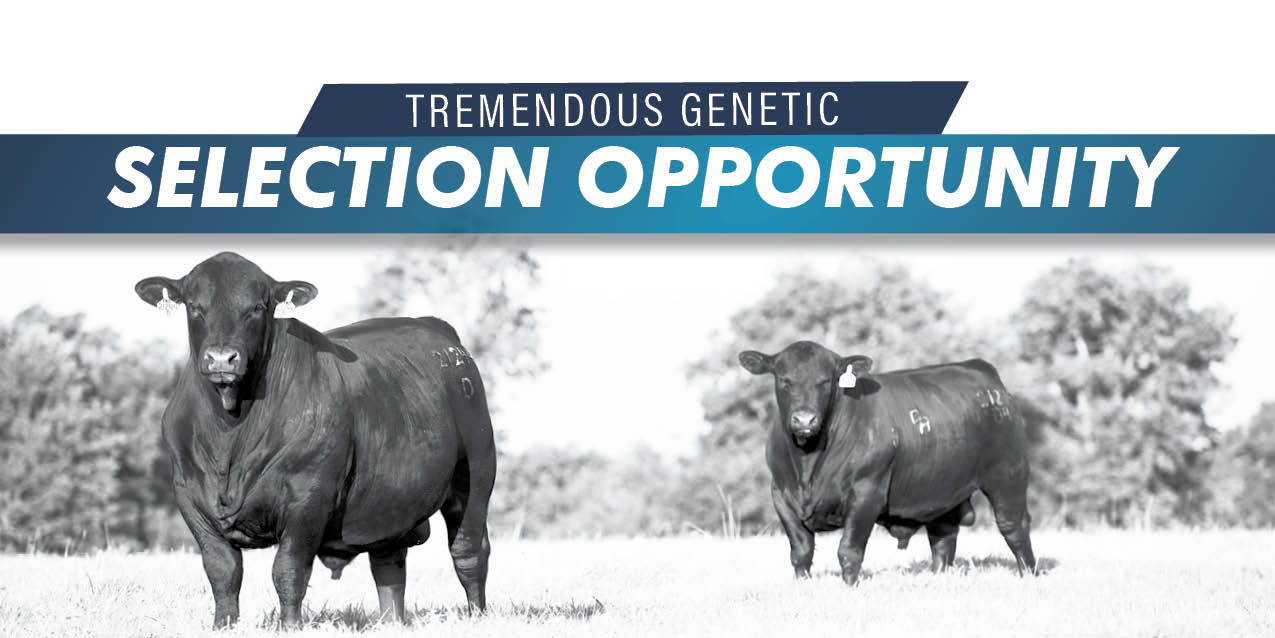 Pick Lot – Selling March 5th at the Genetic Edge sale in Houston
TREMENDOUS genetic selection opportunity from the Chimney Rock program, that Bill Davis, Derrick Miller and Co have firing on all cylinders moving into 2022.  The first of its kind selection from CRC, they are offering pick of their ENTIRE fall 2021 heifer crop, including nearly 50 ET heifer calves as well their AI and natural service heifer calves.  With nothing held back, and what Bill Davis calls his best calf crop in the history of CRC, this is a selection opportunity with tremendous upside and multiple options.
With a balance of UB1, UB2 and Brangus progeny the buyer will have the option to select a daughter from proven sires like the now deceased Business Line, the breed leader Abstract, calving ease king Currency, the greatest maternal son of Three D in Synergy and maternal function expert Future Focus.  Also included in this large selection are up and comers like the popular Big Lake, Oracle, whose daughters are quickly becoming crowd favorites around the country, and Surge, who has a set of Brangus heifers in this ET crop that will break your neck as you drive by!!
Donor dams include arguably the best Nuff Said daughter in the breed in 468A2 (who has produced numerous high sellers in past sales at CRC), what may be the best UB1 in production in the breed in 1528B (who was the dam of an $11,000 Business Line daughter selected by TJ Moore at CRC 2021), the now deceased $16,500 535D40, a tremendous LTD daughter in 331A66, one of the great Chisholm daughters in production in 415B, a full sister to Guardian in 9U8U6, one of the elite Angus females to ever enter the Brangus breed in 103X and Derrick Miller's favorite Angus female 3600, who produced the leadoff bull at CRC a year ago.
With the gates wide open for your selection, do not waiver as there is as much depth and genetic merit in this fall calf crop as you will find anywhere in America.  Brangus or Ultrablack, performance and phenotype, be prepared to be impressed.  There will be multiple donor females come from this set of females, get your hands on the literal pick of the herd!
Prospective buyers are welcome to visit Chimney Rock to view the entire fall calf crop at anytime prior to the sale.  Selection will be arranged at the buyer's convenience and is to be made by June 15, 2022.  For more information or to visit about specific matings or individuals feel free to contact Bill Davis, Derrick Miller or Cody Gariss. 
Contact for more information:  Cody Gariss • (417) 425-0368  •  Bill Davis • (336) 210-1222  •. Derrick Miller • (318) 332-2341